The first thing to know about a land loan is what a land loan actually is and how it's different from a mortgage.
A standard mortgage is a loan from a financing institution that helps you purchase a home, but a land loan helps you buy a piece of land for the purpose of constructing something on it. Land loans can be more difficult to procure, so before you consider applying for one, it's important to be aware of all your options. Let's dive into the types of land loans and where you can source them so you can begin deciding which is best for you.
Land Loans: Trickier than Mortgages
There are a number of reasons that it's harder to get a land loan, but these are the most common:
Difficulty reselling: If you default on your loan, it's harder for a lender to re-sell the land. Constructing your own home or office from the ground up can be enormously rewarding because it gives you the opportunity to customize every detail of your space. But it also takes time, money, and vision, and most people in the housing market prefer to buy a home they can move into right away. Land without buildings on it can be harder to resell, so if you default, the lender might struggle to find another buyer or borrower. For this reason, down payments and interest rates for land loans tend to be higher than for mortgages.
Default risk: It's also proven to be likelier for a borrower to default on, and walk away from, a land loan than a mortgage.1 People are evidently more likely to give up on a house that hasn't been built yet than they are to give up on the space they consider home.
Consideration of multiple parties: Another reason it can be more difficult to procure a land loan is because the lender is not only evaluating your own track record, but also your contractor's.2 If, for example, you're building a commercial space and your builder doesn't finish the job to standard, then your plans for turning a profit are in jeopardy. A lender's concern is that in this scenario, you'd be less likely to make your loan repayments on time and in full.
3 Types of Land
Raw Land: The first type of land lenders finance is called raw land. This is undeveloped land. There's nothing on it — no water, power, sewage, or road. Generally, it's cheapest to purchase, but it's worth considering that it could actually cost you more in the long run. From a lender's perspective, developing raw land is the most challenging, and thus the riskiest, kind of building project. To get the best terms for a loan to develop raw land, you'll need to have a strong credit history and a detailed, comprehensive, and thoughtful building plan.1
Unimproved land: The second type of land is called unimproved land. This property also lacks basic amenities, but represents a step up from raw land. It might have a road, for example, but no water and no power. 
Improved land: The third type is called improved land. This is a piece of property that's ready or nearly ready to be developed. It's in the process of becoming construction-ready, and might have drainage, paving, or other utilities.3 It follows that this is the most expensive type of land.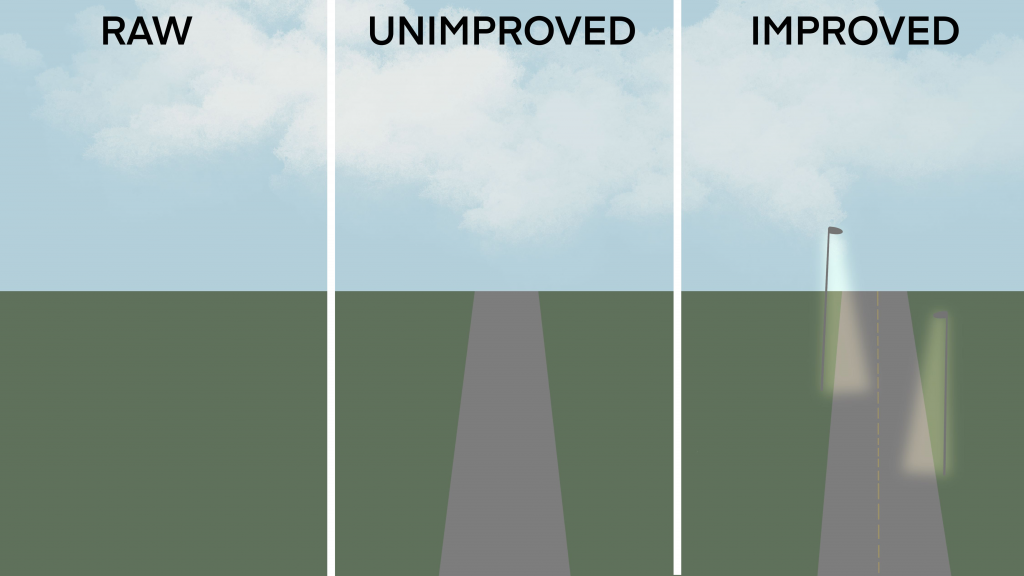 Where to Get a Land Loan
Here are some options to consider when you're thinking about whether a land loan is right for you.
Lender land loans
It's tougher to find a lender for a land loan than a mortgage, but possible. You're likely to have better luck with a small bank or credit union than a big bank.4 The other advantage of working with a smaller lending institution is it's more likely to be connected to the surrounding area and its lenders are more likely to be familiar with how certain types of land can be used.
USDA loans
The United States Department of Agriculture (USDA) offers two types of loans for low- and moderate-income families looking to build a home in a rural area.5 The program began as a way to provide financing for farmers who could not qualify for a loan, but has expanded to include rural residents in general.6 It's managed by the USDA's Rural Housing Service. 
Section 523: The first type of loan is known as a Section 523 loan. This is intended for private or public organizations seeking to provide subdivided lots for people who plan to construct their own homes. (These organizations include federally recognized tribes.) The common term for this is "self-help housing." The interest rate for this type of loan is 3%.7
Section 524: A Section 524 loan, on the other hand, is available to organizations intending to develop a property in order to provide housing to low-or moderate-income families. The interest rate for these is below market and updated monthly.5 Both Section 523 and Section 524 loans must be repaid within two years.
SBA loans
The U.S. Small Business Administration (SBA) is a federal agency dedicated to supporting entrepreneurs and small businesses. It offers a couple of loans for land that will eventually accommodate commercial activity.
504 loan: The first is a 504 loan, which provides fixed-rate financing of up to $5 million for facilities that promote business and create jobs. The SBA provides a loan for part of the purchase cost through a Certified Development Company, or a nonprofit that works with the SBA to promote economic development and achieve specific public policy goals. For this reason, the 504 loan is also known as a CDC loan.8 A lender provides another portion of the cost of purchase and you, as the borrower, are responsible for making a 10% down payment. To qualify for a 504 loan, you must be operating as a for-profit company in the United States with a net worth of less than $15 million and have an average net income of less than $5 million after taxes for two years before you apply.9 As is the case with any other land loan application, you must be able to show that you're qualified to manage the business, you have a viable business plan, and you'll be able to pay the loan back.
7(a) loan: The SBA also offers a 7(a) loan for up to $5 million. This is its most common loan program. Eligibility depends on the nature of your business activity, your credit history, and the location of your business. If you qualify for this loan, you pay a 10% down payment; your loan is for more than $25,000, you may also have to offer up some collateral.1 You must also be operating for profit in the United States, have equity in the business, use some other funding before applying, and use the funds for a sound purpose, among other requirements.10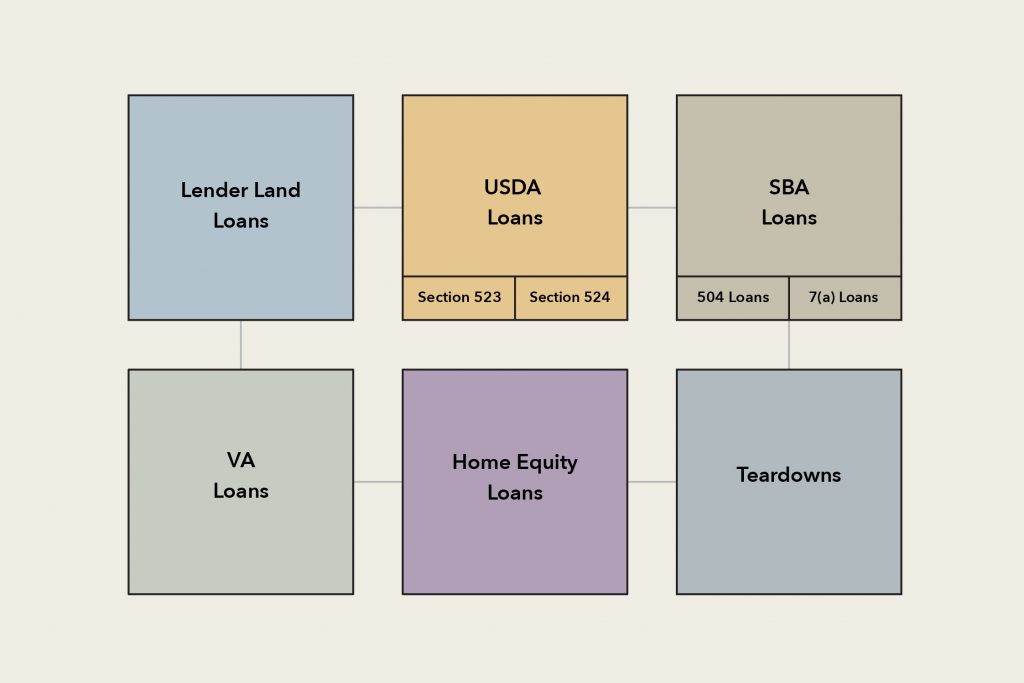 VA loans
People who have served in the military for specific periods of time in specific capacities qualify for VA loans, which are guaranteed by the U.S. Department of Veteran Affairs. These can be used to purchase undeveloped land as well as mortgages; however, various criteria must be met. For example, the land must have street and backyard access, be eligible for certain kinds of insurance, have a safe water supply and safe sewage system, and be free of noise pollution and environmental hazards.11
Home equity loan
If you take out this kind of loan, you're basically securing it with your house. This means you don't have to make a down payment. The risk, of course, is losing your house.12 If you choose to take this route, it's strongly recommended that you seek legal advice first.
Teardowns
If you're set on designing your home from the ground up but can't find a land loan option that works for you, another option is to take out a mortgage for a property, then tear the structure on the land down and rebuild it yourself. This, of course, is a more expensive option and requires more extensive groundwork on your part, including sourcing all the right permits.
How to Get a Land Loan
Before you choose a financing option, make sure you have a building plan for them and you're looking to purchase. You'll need to show that you've thought through your plan and, if you're not planning to construct your building yourself, that you've engaged builders to do the work for you. Lenders want to be sure your plan is viable, feasible, and achievable. A strong building plan and a good credit history are essential to qualifying for a land loan with favorable terms. 
Sources