A rental application is a form that landlords can use to vet potential tenants for an available rental unit. It collects details from the applicant, including, but not limited to, contact information, employment, household information, income details, personal information, and residential history. Typically, the form also authorizes the landlord to run a background check and obtain a consumer report on the applicant. Once the rental application is approved by the landlord, the parties can move forward with executing a formal lease agreement.
In this post, we'll take a look at the benefits of rental applications, how they should be structured, and what to avoid. If you're looking for official rental application forms, be sure to check our database of commercial and residential applications for all 50 states.
Table of Contents
Why Landlords Should Use Rental Applications
Rental applications are valuable to landlords for several reasons. First and foremost, they collect all of the information and consent needed to run credit and background checks on applicants. Second, they tend to filter out potential tenants that are not serious about renting the available unit. Finally, they provide assurance to the landlord that the applicant can pay their rent consistently and maintain the rental unit.
For households with multiple adults and incomes, it's recommended that each adult be required to complete their own application. It's also important to note that some states prohibit landlords from running background checks while screening potential tenants.
The following online companies run criminal and credit checks:
What to Include in a Rental Application
In any rental application, it's important to cover the basic categories of the applicant's personal information, financial standing, credit, and rental history. It's also crucial to include the federally required lead-based paint disclosure for structures built before 1978.
Federal law requires landlords to attach the Fair Credit Reporting Act (FCRA) Disclosure to all rental applications. This document details a tenant's rights under the Fair Credit Reporting Act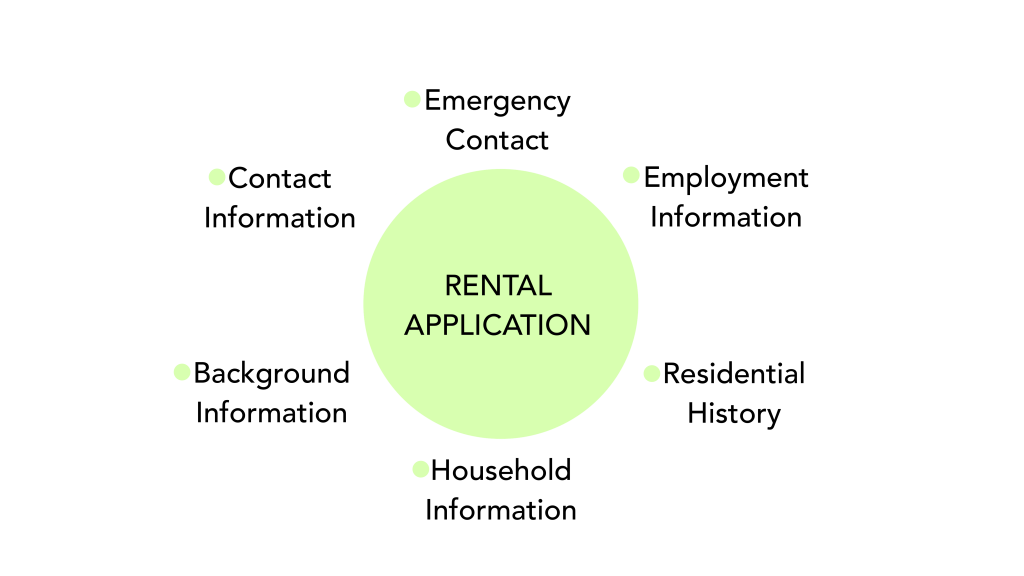 What Can Landlords Ask About in Rental Applications?
To assess whether a potential tenant is a good fit, there are quite a few pieces of information that a landlord should seek to obtain through a rental application. 
Along with the items listed below, any rental application should include a clear authorization for the landlord to contact current and former employers and landlords, as well as permission to run credit and criminal background checks on the applicant. 
Here are the areas of inquiry included in a typical rental application:
Background information:

Bankruptcy;

Evictions

Felonies;

Past issues paying rent; and

Smoking.

Contact information: 

Full legal name;

Email address;

Phone number; and

Social security or driver's license number.

Emergency contact information

Full legal name;

Email address; and

Phone number.

Employment/financial history:

Names and contact information for current employers; and

Proof of income (recent pay stubs, W2, employment offer letter).

Household information:

Number of total people;

Number of minor children (if any); and

Number of pets (if any).

Residential History:

Names and contact information for past and current landlords; and

The past five (5) years of residential history.
What Documents Do Applicants Need To Submit?
Landlords may request several documents in a rental application. In many cases, applicants can simply enter the required information on the rental application form rather than submit copies of documents. However, it's a good idea to keep records organized in case an official copy is needed.
Depending on the nature of the rental property and the applicant's situation, required documents may include the following:
Personal identification, such as a driver's license, passport, or green card

Pay stubs or bank statements to show proof of income

Rental history records

Vehicle information, including registration and insurance

Pet vaccination records
What Should Not Go In a Rental Application
Not every rental application is legitimate. When searching for housing, applicants should be wary of any question or feature of the application process that may constitute discrimination. Applicants should also be careful to watch for signs of potential scams.
Federal Fair Housing Act
Rental discrimination is a primary concern in rental applications. Rental discrimination occurs when the manager of a rental property handles a tenant or applicant differently than others because they are included in a legally protected class. Courts recognize two types of rental discrimination, intentional and unintentional:
Intentional rental discrimination is direct. For example, advertising that a certain protected class should not even consider applying for a rental unit, or only offering specific units to an applicant based on their association with a protected class, is considered rental discrimination.

Unintentional rental discrimination is indirect. For example, creating rules in a rental property that discourage households with young children to apply is considered rental discrimination.
The Federal Fair Housing Act applies to any person or entity that provides housing to other persons, including banks, landlords, municipalities, and real estate companies. Exemptions apply to owner-occupied buildings with four or fewer units; single-family homes that are for rent or sale by the owner; and housing that is provided and managed by a religious group or private club.
The act prohibits discrimination based on:
Disability;

Ethnicity;

Gender;

Family status;

Nationality;

Race; and

Religion.
Some states have additional laws that prohibit discrimination based on:
Age;

Citizenship;

Criminal history;

Genetic information;

Gender identity and expression;

Sexual orientation;

Source of income; and

Veteran/military status.
How To Avoid Rental Application Scams
Housing applicants should always keep an eye out for signs that a landlord or rental unit is not who or what they seem. When searching for housing, remain on high alert for rental application scams. Some of the more obvious red flags to look for include:
Excessive application fees

, rent,

security deposits

, or

late fees

;

Landlords that

only accept

cash or wire transfer for payments;

Questions about an applicant's disabilities, health, or illnesses;

Questions that differ between applications (when multiple adults in a household apply individually);

Questions that single out a legally protected class per the

Federal Fair Housing Act

and local state laws; and

Terms that differ from the information that was advertised about the property.
If you identify a possible rental listing scam, it's recommended that you report the incident through the following channels to help protect others. You can forward the website on which you found the listing to one or all of:
Your state's consumer protection office

Your local law enforcement agency
Rental Application Fees
It is common for landlords to charge a fee for submitting a rental application. Generally, application fees are non-refundable and cover the associated "hard" and "soft" expenses of tenant screenings. Hard expenses include the real costs of running credit and background checks, while soft expenses include the administrative time it takes for the landlord to review applications, credit, and background checks.
It's important to note that application fees should never be used as a source of revenue, and should not be required for a potential tenant to tour the property before applying. If a landlord decides to deny a tenant's application before running a credit or background check, it is good practice to refund the tenant's application fee.
Landlords should always consult the specific laws in their state regarding fee amounts. Some states set limits on the amount a landlord can charge, while others permit landlords to charge market-based fees.
Commercial vs. Residential Rental Applications
Lease applications for commercial properties, like industrial, office, and retail spaces, are often more complicated than housing rental applications. A landlord may wish to apply extensive criteria to determine an applicant's suitability for their commercial space, including the type of business, nature of day-to-day operations, and fit with neighboring tenants. Additionally, commercial real estate typically commands higher rents, requiring a higher threshold of due diligence in the application process.
Applications for First Time Renters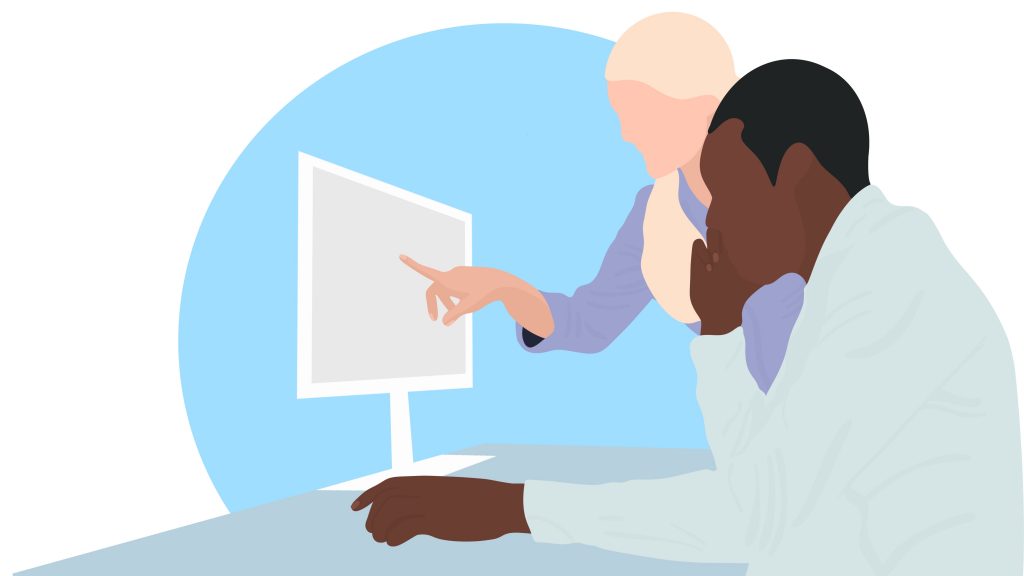 If you are applying to rent a housing unit for the first time with no rental history, there may be some extra steps to take. Additional application components can help establish your trustworthiness in the eyes of the landlord. 
An excellent credit score, stable income, and ample means to cover rent can help prove your ability to meet the required payment schedule. In some cases, paying rent upfront for two or three months (in addition to the standard security deposit) will put landlords at ease. 
However, not all renters have a credit history or full-time income. Prospective renters in special circumstances, like college students, may need to bring on a qualified guarantor to back up the applicant.
A guarantor on a rental application puts their credit on the line to assure the landlord that all financial obligations contained in the lease agreement will be met. If the tenant fails to pay rent, the guarantor is legally responsible. 
Applying with a guarantor can improve your chances of being approved if you are a first-time renter, have damaged or limited credit, or cannot otherwise demonstrate credibility on your own.
Guarantors vs. Cosigners
Both guarantors and cosigners take on legal and financial responsibility to back up the primary applicant on a rental application. However, there are a few key distinctions between the two. Whereas a guarantor acts as a backup in case the renter defaults on payments, a cosigner shares equal responsibility for payments and is approved to live in the unit.
Multi-Lingual, Spanish, and English Second Language (ESL) Rental Applications
Accommodating tenants who are not comfortable communicating in English is not only a good business practice—it may be necessary for compliance with Fair Housing Act laws.
To expand the pool of potential tenants, facilitate good communication, and be inclusive towards applicants of all backgrounds, consider making rental applications and other related documents available in multiple languages. Spanish, Chinese, and Vietnamese are some of the most common languages spoken in the United States.
When interacting with non-English speaking applicants, there are a variety of tools and resources to help make the relationship smooth and positive. These include translators and technological tools. Communicating only in writing can also help bridge the language barrier.
FAQ

Should I Give out My Social Security Number On a Rental Application?
Safeguarding your social security number is a crucial measure to guard against identity theft. This kind of sensitive information should not be given out freely. However, it is a standard practice for landlords to collect social security numbers on rental applications in order to facilitate background checks.
As a landlord, there may be legal considerations involved when collecting social security numbers from rental applicants. Applicants generally have the right to withhold this information or ask how it will be used, and some states have additional laws about the way social security numbers are treated. Be sure to check your local laws before including a social security number field in your rental application. Instead of collecting this information directly, you can use a third-party service to securely run background checks.
Before submitting a rental application with vulnerable personal information, there are steps you can take to reduce the risk of identity theft. Contact the property management company or the city in which the property is located to verify that the unit is in fact available for rent and that the landlord is who they say they are. 
Can a Rental Application Ask for Bank Account Numbers?
All landlords need to have assurance that rental applicants possess the means and the credibility to pay rent. They may request bank account numbers to corroborate documents, provide additional verification of finances, and run credit checks.
Rental applications typically solicit detailed information about a potential tenant's financial history, including proof of income, credit score, employment status, and more. Documents like pay stubs, bank statements, and tax returns often suffice. However, in some cases, landlords will ask for bank account numbers in addition.
Before proceeding with revealing any banking information, be sure to thoroughly vet the rental company or landlord to confirm their legitimacy. You should tour the property in person before giving over your financial details. If you are not comfortable providing your bank account number, you can try asking the landlord to contact your bank directly. 
How Long Does the Rental Application Process Take?
Filling out an online rental application should take no more than a few hours. Once the application is submitted, along with all supporting documents and any cosigner applications, processing time may vary. The typical turnaround time for approving a rental application is anywhere from one (1) to three (3) days. This period allows landlords to review all application materials, run background and credit checks, and contact references. 
Related Forms