This past year, the market for used cars saw an unprecedented boom in response to a worldwide shortage of semiconductor chips preventing auto manufacturers from making new cars. The limited supply for automobiles — coupled with a rising demand due to fears of public transportation elicited by the pandemic — sent prices sky-rocketing. In June, the average price of a used car in the United States passed $25,000 for the first time ever, marking a 26% jump from a year ago.1 According to government data, this dramatic change in the market has contributed significantly to the country's overall inflation rate of 5.4% as of June.2
While the spike in demand and price is finally appearing to curb, many experts do not expect things to return to normal anytime soon. Audi's CEO Markus Duesmann recently said in an interview that he anticipates this issue to persist until late 2022, and he is not alone in this sentiment.3
So what now?  Whether you are considering selling your car or looking to buy one, there are several things you should know in order to ensure a successful transaction — regardless of the current state of the market. The way you choose to sell or buy a pre-owned vehicle will have a significant impact on not only the price but also the process. Each method has its share of advantages and disadvantages, which we will explore in detail below. 
Table of Contents
Online Marketplaces
There are dozens of used car websites that allow private sellers to post listings. For both sellers and buyers, going this DIY route allows more flexibility in pricing, but it comes with the tradeoff of adding a lot more work to the process.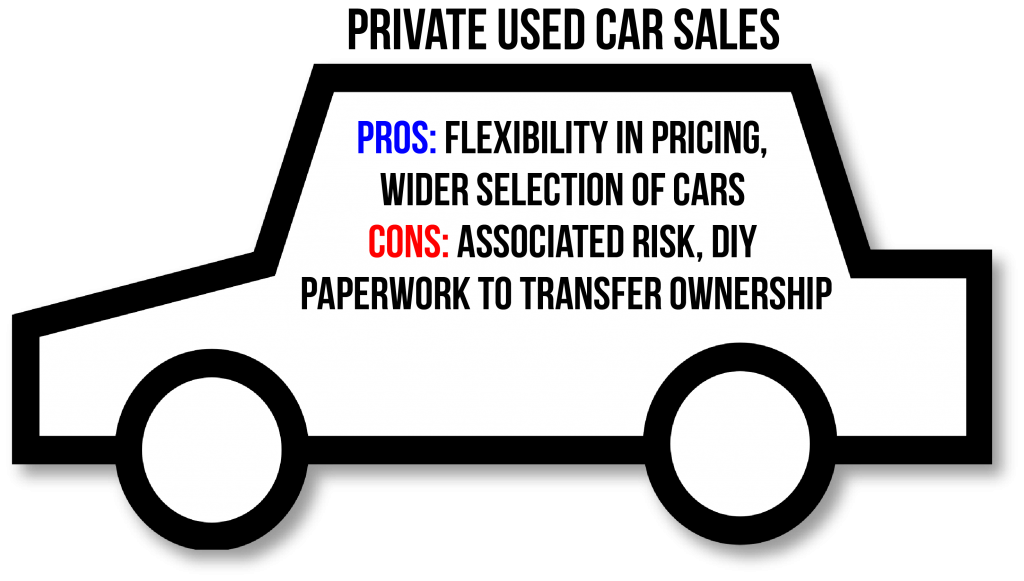 Benefits of Private Car Sales
Without the overhead costs of a dealership, sellers often get the best return while buyers too are likely to find lower prices with a private party seller than at a dealership. Plus, with the advanced search tools offered on popular websites like autotrader.com, which hosts more than 3 million listings nationwide, buyers are likely to have access to a much wider selection of cars that fit their criteria. On the flip side, sellers can find potential buyers much more easily with a small listing fee.  
Due Diligence for Used Cars
However, because private party sales are mostly unregulated, there is some risk associated with choosing this route. Sellers may mislead potential buyers about the condition of the car, and that's why it's highly recommended that a vehicle history report is acquired and reviewed thoroughly before any decisions are made. For sellers, it may be beneficial to include a copy of the report in the listing to attract serious buyers.4
Before signing any paperwork, buyers should also take the car to an independent mechanic for a thorough pre-purchase inspection. If there are any issues with the car, the mechanic will identify them in the report, which can further inform your decision.
Transferring Ownership of Used Cars
It's recommended that you check with your state's DMV to determine what title and registration documentation are required to complete the transfer. In most cases, the seller must sign the title to release ownership of the car, and the buyer can take that title to the DMV for the state to issue a new registration and title under the new owner's name.5
Additional paperwork that may be required depending on where you live, including:
A Bill of Sale form

, which serves as a legal record or receipt for the ownership transfer6

An Odometer/Mileage Disclosure Statement Form

A Release of Liability Form, which releases the seller of any and all liabilities related to the car
Car Dealerships
If you are looking for a more streamlined process with minimal work on your part, buying or selling a used car through an established dealership may be the way to go. However, it won't be the most lucrative or cost-effective route.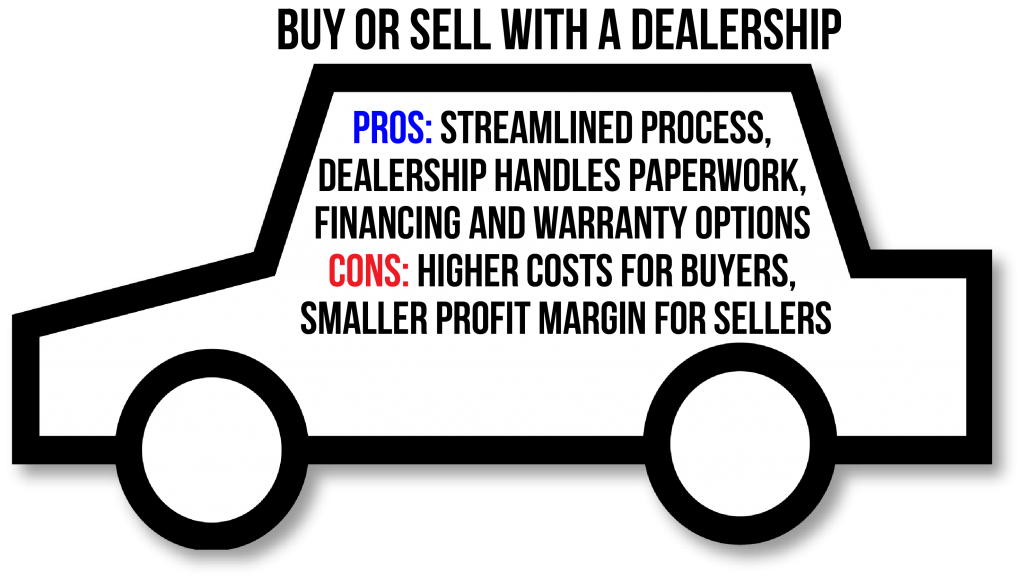 Vehicle Trade-in
For sellers who want to replace their old car with a new one, the simplest way to accomplish this would be to offer it as a trade-in to the dealership where they are buying the new car from. Because the dealership handles all the paperwork for the sale and the title transfer as well as refurbishing the car for resale, your car's trade-in value will likely be a lot lower than if you were selling as a private seller. 
However, in many states, you only have to pay taxes on the difference between the price of your new car and the trade-in value of your old one, which can save you a lot in sales tax.7
Financing and Warranty
As opposed to private party car sales which often involve a lump sum payment, purchasing a used car through a dealership allows more flexibility in payment plans. More than half of used car purchases on average involve some sort of loan, with seven in ten using in-house financing.8 
Dealerships often operate as a broker between the buyer and a lender like a major financial institution, providing a one-stop shop to pick up and finance a used car in a streamlined way. 
Another benefit of purchasing through a dealership is having access to certified pre-owned (CPO) vehicles, which come with factory warranty coverage. They essentially guarantee reliability, as they're usually low-mileage cars with service records and no history of accidents. CPO cars undergo a thorough inspection and refurbishment process that meets strict guidelines from their original manufacturer.9
Sources: