Moving in or out of a rental property can be a stressful time for both tenants and landlords. One common topic of contention, particularly at the time of moving out, is the security deposit. While a survey found that one in four renters never see their security deposit again — with 36% of them never receiving any explanation as to why — some landlords are faced with disputes and even legal action from renters when they make reasonable deductions from the deposit to pay for repairs beyond normal wear and tear. One way to effectively avoid this outcome is to have a Move-in/Move-out Checklist. While it is only required by law in 17 states, it is highly recommended for both renters and landlords alike.
---
---
Table of Contents
What is a Move-In/Move-Out Checklist?
A Move-in/Move-out Checklist is a document that allows the landlord and the tenant to sign off on the condition of the unit at the start and end of the lease. At the start date, both parties should carefully examine every wall, appliance, and fixture to note any existing damage or needed repairs. This allows both parties to be on the same page while making sure that those existing damages are not reflected in the tenant's security deposit when they move out. It also sets an expectation for the tenant when they move out to restore the unit to its former condition or pay for necessary repairs. 
Some variation of this checklist is required by law in 17 states — including Arizona, Georgia, Hawaii, Nevada, and Washington — with some states only requiring it if a security deposit is collected. Regardless, having a Move-in/Move-out Checklist can be extremely beneficial. Not only can it serve as written documentation in the event of a legal dispute between the tenant and the landlord, it holds the respective party accountable for the damages incurred before and during the lease.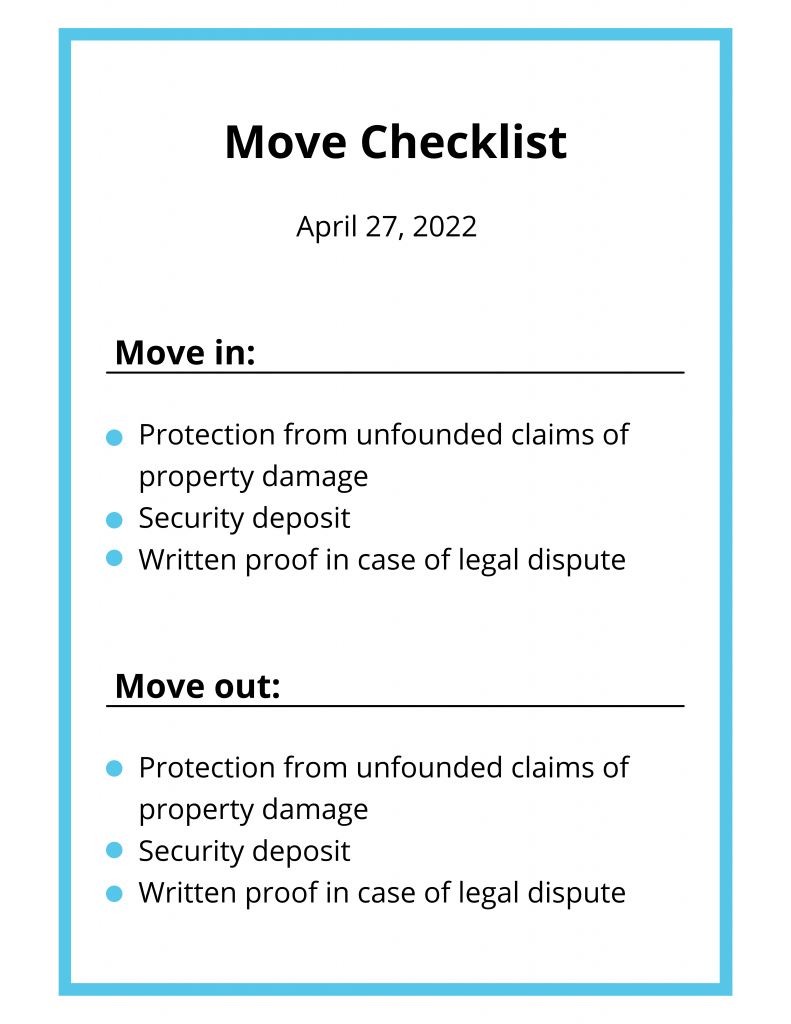 What to Include in a Checklist
Every landlord's checklist can look different, but most commonly include the following information: 
Property Description
The form should indicate the address, unit number, and other basic information about the property in question. 
Tenant Information
Move-in/Move-out Checklists should also include the names of the renters, as well as their move-in/move-out dates. 
Areas and Items of Inspection
This is obviously the most important section and can be arranged in a variety of ways. It is commonly broken down by rooms and areas of the living space (i.e. living room, kitchen, bedroom, bathroom) and have their own lists of items for inspection, which can range from walls, fire alarms, and appliances to handrails, electrical outlets, and closets.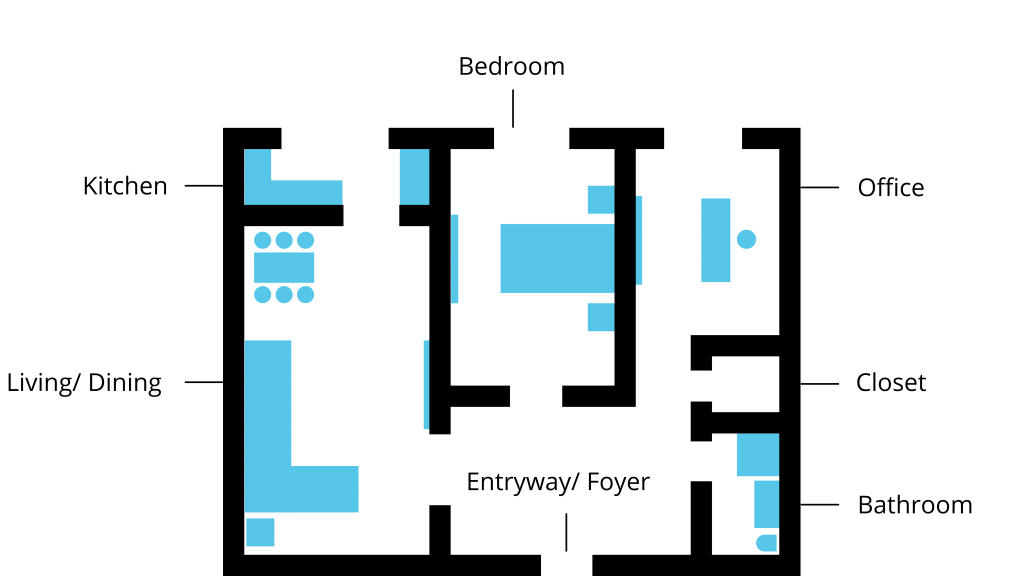 The Move-in/Move-out Checklist should provide a line for each of these items so that both the tenant and the landlord can make the necessary notes to indicate the condition of each. Some lists also provide a line for the "cost for correction/repair" so that both parties understand any deductions made from the security deposit.  
Signatures
Without both parties signing off on the document, it is rendered essentially useless. At the bottom of the document, the checklist should provide a section for all parties involved to sign and date their approval of the reported conditions on the form. 
Wear-and-Tear vs. Damage
Determining what is normal wear-and-tear versus what counts as damage can be tricky. That's why it may be extremely helpful to include these distinctions in the lease agreement so that there are no misunderstandings that lead to disputes over withholding the security deposit over damages. 
Some common examples of normal wear-and-tear include: 
Scuff marks or worn patches on linoleum

Worn-out carpet

Warped doors and windows

Broken strings on blinds or curtains

Sun-faded blinds or doors
On the other hand, common damages that tenants are held accountable for include:
Broken or missing blinds

Pet urine, burns or oil stains on carpet

Large holes in walls

Lost keys

Unauthorized painting
Moving Out Procedures
The "move-out" portion of the checklist can also be used for the landlord to provide clear instructions to the tenant about the proper procedures and tasks that need to be completed when vacating the property. That can include restoring the walls to their original color, taking out all the trash, cleaning windows, and specific instructions on returning the keys.