If you are at risk of losing the roof over your head, you're not alone. According to a recent study, more than 5.8 million households across the U.S. are currently behind on rent, and with pandemic-related eviction moratoriums sunsetting on the federal, state, and local levels in the coming weeks, many people may soon be anticipating the dreaded eviction notice on their doors.1
An eviction, which is the court-ordered removal of a tenant from the property where he or she resides, may be brought by the landlord due to nonpayment of rent, damage to the dwelling unit, illegal activity, violating the terms of a lease, or no valid cause at all, depending on what state you live in.  
While each state determines its own eviction rules through its own version of the Landlord-Tenant Act, they often cover much of the same ground. That includes the general procedure that a landlord has to follow in order to lawfully evict a tenant, what tenants can do to contest, and more. 2
Let's dive a little deeper into the ins and outs of an eviction, and what you can do to fight it. 
Table of Contents
What Happens During an Eviction?
An eviction is a legal process that is initiated by the landlord and typically takes place in civil court. Below is the step-by-step breakdown of how an eviction plays out from beginning to end.3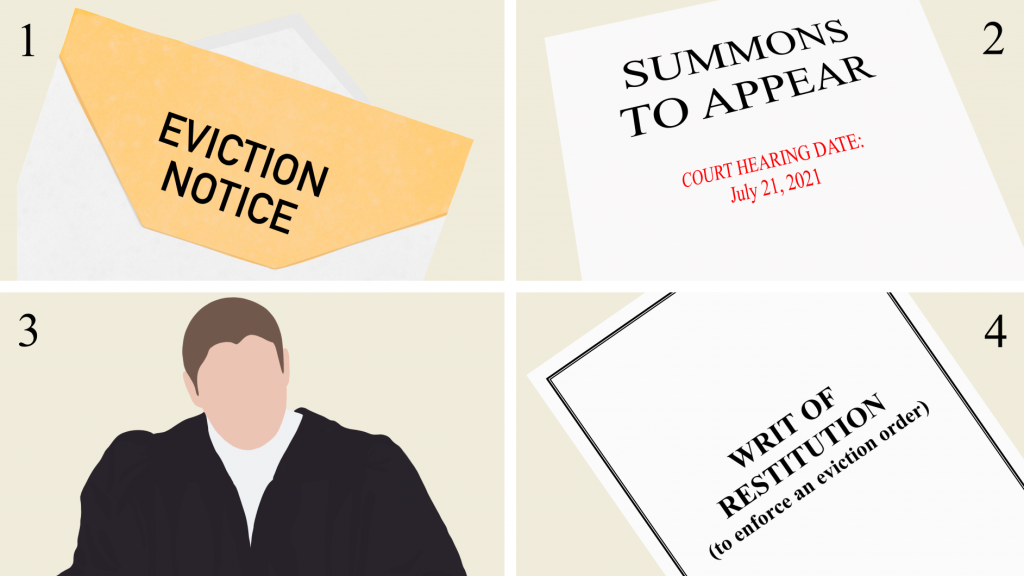 The Eviction Notice
Also known as a "pay or quit" notice for nonpayment-related evictions, this typically marks the beginning of the eviction process. Once this written notice is served from the landlord, the tenant has a set number of days—ranging from 3 days to 30 days, depending on what state you live in—to pay the missed rent. If you do not meet the terms laid out in the notice, the landlord then has the right to file for an eviction suit—sometimes known as an unlawful detainer—in court.
Eviction Summons and Complaint
Once your landlord files an eviction suit in court, a summons and complaint will be served to you. Ignoring the court summons will mean you are giving up your right to a hearing, and a default judgment will be ruled. Typically, you have five to 15 days to formally submit a written response to the complaint, depending on how the complaint was served.4
Hearing
At the hearing, the judge will evaluate the presented evidence and testimony to decide whether the landlord has demonstrated a valid basis for eviction, whether the tenant has raised a legal defense to the eviction, and whether there are critical discrepancies between the accounts of the landlord and the tenant. Both parties can appeal the judge's decision to the district court.5
Writ of Restitution
If a judgment is ruled in favor of the landlord, a writ of restitution—a document that officially authorizes the eviction—will be filed and served to the tenant by a sheriff, who can enforce the eviction 72 hours after it has been posted. 
What To Do If You Are Facing Eviction
Now that we understand the basic process of eviction, let's explore some of the ways you can fight it: 
Know Your Rights
The first and perhaps the most important step to take if you are facing eviction is learning about tenant rights and protections on the federal, state, and local level. If you find that any of these rights have been breached by your landlord, you have grounds to take legal action or use the breaches as part of your defense against the eviction lawsuit.

Eviction Rights
Because all states require the eviction process to take place in the court of law, it is illegal for your landlord to pursue a "self-help" eviction by changing the locks, taking your belongings, removing the front door, or turning off the heat or electricity. Even after a judgment has been ruled in favor of your landlord, he or she is required to retain a sheriff to do the actual eviction.6
Fair Housing Rights
Under the federal Fair Housing Act, which applies in every state, landlords cannot discriminate against tenants based on race, color, national origin, religion, sex, family status, or disability. In fact, if a tenant has a physical disability, the landlord must make reasonable accommodations and allow necessary modifications.7
Right to a Safe, Habitable Home
One of the most primary rights you have as a tenant is the right to a safe, habitable home. That means that your landlord is required by law to make any necessary repairs in a timely fashion and make sure your health is not endangered by their negligence.
Privacy Rights and Security Deposit 
Your landlord cannot come into your home without notice. State law also determines how long your landlord has to return your security deposit and often requires written documentation about damages if not all of the deposit is returned.
Negotiate With Your Landlord
Communication is key. Explaining your situation to your landlord before your back rent piles up is highly recommended; after all, the two of you may be able to work out a repayment plan. If you have trouble reaching a feasible agreement or there are other factors in play, you may be able to find low-cost mediation services through your local resource center. Some states and cities also offer rent relief under COVID-19 programs.8
Find Legal Assistance
It may be helpful to get professional legal advice on your case and learn about which exact landlord-tenant laws apply to you. If your eviction is further along in the process, finding an attorney to represent you in court will help ensure that the judge hears a well-crafted defense argument on your behalf. Local community resources, such as a legal aid foundation, may be able to link you with pro-bono or low-cost attorneys. 
Sources: