In 2019, nearly 44.1 million American households were occupied by renters. A study conducted two years before that found that more Americans were renting than at any point during the last half-century. In February 2021, the average monthly rent for an apartment in the United States was $1,124. Using that figure, we can safely conclude that upwards of $50 billion in rent changes hands each month. That's $600 billion a year. 
Rent payments go toward mortgages and maintenance, enabling the rental micro-economy to continue functioning. As is the case in every industry, figuring out how to collect payment is essential to the operation. Any freelancer or independent contractor – or, for that matter, anyone who works in accounting – understands how much setting up an easy and effective payment system matters.
In this article, we'll explore six of the most common ways landlords collect rent: via property management software, mobile payment apps, the Automatic Clearing House Network, check, cash, or a property manager. Especially for landlords who manage multiple properties simultaneously, a hassle-free system for collecting rent can be the difference between income that feels passive and income that doesn't.
Table of Contents
Rent Collection Methods
There are pros and cons for each system described below. A system that works for one landlord won't necessarily work for another. In choosing a method for collecting rent, landlords should consider such factors as time available, budget, and how many properties they are managing. 
A tenant is required to pay rent in accordance with the instructions written in the lease agreement, so a landlord may mandate any of the following options as a requirement for tenancy. After payment is processed, a tenant is commonly given a receipt in either physical or electronic format. 
1. Rent Collection Software
Rent collection software is generally packaged into property management software designed specifically to manage rentals. This is accessible via websites and apps, and can be used to alert tenants of impending due dates, process rent payments, tack on late fees, track a property's maintenance schedule, and even automate the screening of tenants, among other features.
This software keeps payment details safe and secure. It ensures all details related to a rental property or properties are stored in one place. Property management websites and apps can be set to reject partial payments; some landlords do this because it's more difficult to convince the court to evict someone who's been making partial payments.
Perhaps most importantly, choosing this option for rent collection reduces the likelihood of late payments, due in part to the reminders sent automatically to tenants before rent is due. 
Some of the companies listed below offers tiers of subscriptions that enable access to more features. The highest tiers include such services as dedicated account management.
2. Apps to Collect Rent
More than ever before, Americans are using mobile apps to make purchases. Apple Pay gained 65 million users in 2020, and use of apps like Apple Pay is forecasted to double between 2020 and 2025.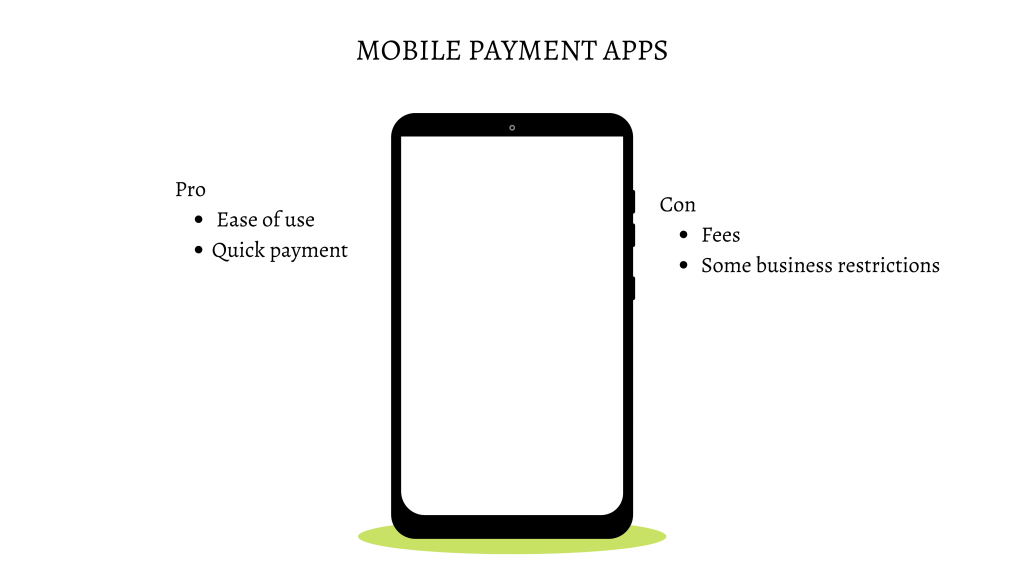 The mobile payment apps many of us use in everyday life offer a quick, free, and convenient way to collect rent. Payment is made when a tenant enters the landlord's e-mail or phone number, and most payments are processed immediately.
However, it's worth noting that some mobile payment apps restrict use of the app for business transactions unless the user pays for a business account. Venmo, for example, states the app can't be used "to receive business, commercial or merchant transactions" disguised as transactions between friends. While it's possible to receive payments via a mobile payment app without indicating they're from a tenant, the risk of getting caught is getting an account suspended.
3. ACH Rent Collection
ACH stands for Automatic Clearing House Network, which is basically a network of banks that allows for bank-to-bank transfers. Obtaining a tenant's bank details in a recurring ACH form allows the landlord to automatically debit their account on a monthly basis. Once ACH payments are set up, the tenant doesn't need to think about actively or manually paying rent each month.
Payment typically takes 5-7 days depending on the bank. Users can pay fees to get the transfers delivered more quickly.
Administratively it can be a challenge to set up ACH and there are quicker systems than this one. Still, it's an increasingly popular option. Gen Z tends to prefer ACH for rent payments as well as other payments. In recent years, the ACH Network has been registering unprecedented growth.
Most banks will process ACH payments for free, though some banks and credit unions will charge fees – typically less than $10 – to complete the transfer. 
4. Check
Although online and app payment methods are increasing in popularity, traditional check payments are holding firm. It doesn't cost anything to write a good old-fashioned check.
A study conducted by David Hao Zhang using data from 2014 found 42 percent of tenants in the United States paid by check. Zhang found that higher-income households tended to pay via check (66 percent of respondents) and electronic payments (23 percent). Another interesting finding of his study was that people were more likely to use paper-based payment methods, such as cash or check, for rent than for any other expense. No nationwide studies into how people pay rent have been conducted since, though it is likely more people are paying via electronic means today.
A check is generally either sent to a specific address or hand-delivered to the landlord. The downside of using a check is the risk it'll get lost in the mail.
5. Collecting Rent in Cash
Though there has been a mass migration to electronic forms of payment, paper-based methods, including cash, remain popular choices. 
The Zhang study, which is based on 2014 data, found that renters with less than $25,000 in annual income tended to pay rent using cash (41 percent) and money orders (28 percent). Given this income bracket encompassed about half of all renters in 2019, paying with cash is still common.
One thing to remember if accepting cash is to keep diligent records and issue a rent receipt after receiving payment. The advantage of electronic payment methods and even checks is the automatically generated documentation. Accepting payments via check or cash requires remembering to maintain a paper trail, the way all landlords did before the dawn of the internet.
6. Property Manager
Hiring a property manager or property management company frees landlords of the stresses of running a rental business. Property managers handle all logistical matters associated with maintaining the property, keeping the property rented, collecting rent on time every month, and evicting non-compliant tenants. A property management agreement outlines which of these tasks the property manager is responsible for performing.
They do so for a fee that generally lands between 4% to 12% of the monthly rent, with 10% being the most common fee. 
It's worth noting that a property manager's fee does not include expenses for actual maintenance. For example, if the water heater breaks, the landlord will be responsible for paying for parts and labor to replace it. 
Hiring property management is the most hassle-free option on this list, but it's also the most expensive. Cost is the main reason some landlords avoid this system. Another is that they prefer to know their tenants personally.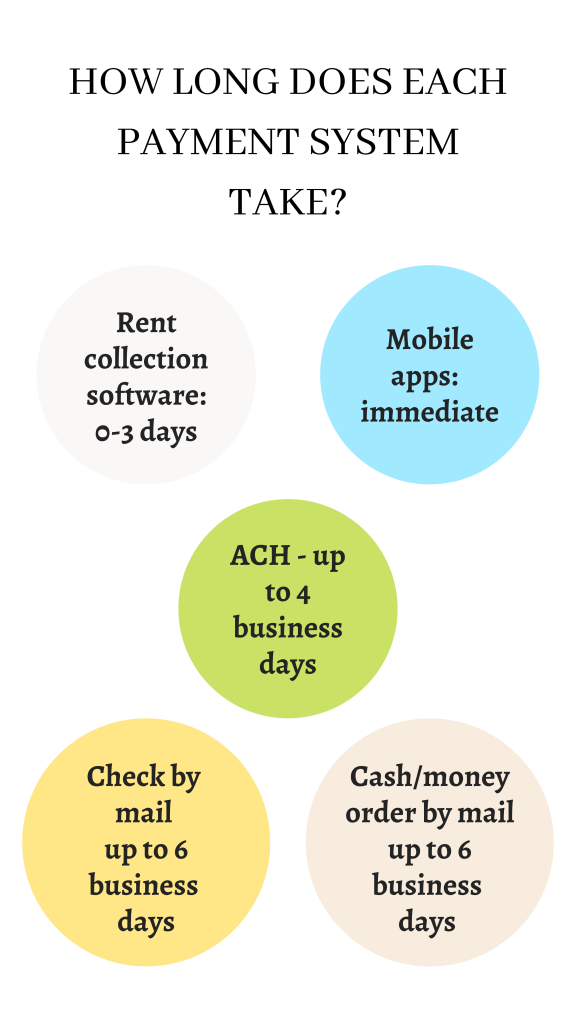 Choosing a Rent Collection Method
In choosing a system for accepting rent, landlords might consider the following factors.
Number of Tenants/Rental Units:

Say a landlord owns 40 rental units. She probably doesn't want to personally knock on 40 doors on the first of every month. In this case, electronic payment methods or property management software or property management in general might be options worth considering.

Distance From Rental Property:

Some landlords don't live in the city or state where their rental property is located. In these situations, it may be necessary to hire a third party to collect rent or to accept electronic payment.

Desire to Interact With Tenants:

Some landlords like to have personal relationships with their tenants. It makes them feel more comfortable and allows for more open communication, therefore minimizing the possibility of a dispute escalating. Landlords interested in knowing their tenants might opt to collect rent in person or via paper-based methods. Other landlords live a mile from their rental properties but don't want to personally interact with their tenants. In this case, electronic payment methods might make more sense.

Tech-Savviness: Just because electronic payment methods are becoming more common doesn't mean everyone has to use them. It's a landlord's prerogative to mandate paper-based payments if he or she doesn't feel comfortable using technology.
How to Collect Late Rent from a Tenant
Handling rent collection via property management software or a property management company reduces the possibility of late payments, which can interrupt cash flow and affect the way a rental business is run. If a landlord has to pay a contractor for maintenance, for example, a late payment could be a considerable problem. Online rent payment tools allow tenants to set up recurring payments and receive reminders in the lead-up to a due date.
When a tenant fails to pay rent on time, the landlord can send a late rent notice, formally known as a notice to pay or quit. This gives the tenant a timeframe, determined by state laws, within which to pay the unpaid rent. Some states mandate notice periods of three days; others allow 14 days. If the tenant doesn't pay within the specified period, the landlord is authorized to begin eviction proceedings by issuing an eviction notice.
The best way to avoid disputes over rent payments is to make sure the lease agreement outlines, in very clear terms, how rent must be paid and what happens when it isn't.